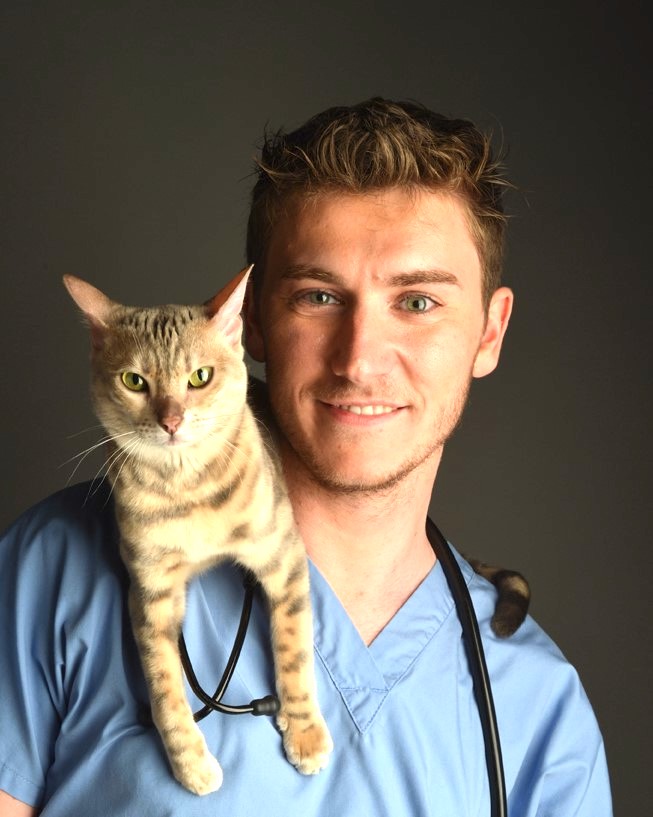 Docteur Jonathan Bouvard,
spécialiste en Cardiologie dipl. ECVIM-CA
Jonathan est diplômé de l'école vétérinaire d'Alfort (ENVA) en 2012. Il est également ancien interne des animaux de compagnie et ancien assistant de cardiologie au sein de la même institution. Passionné par la chirurgie cardiaque, Jonathan entreprend en parallèle de son activité clinique en cardiologie vétérinaire à l'ENVA une formation diplômante en chirurgie cardiaque pédiatrique. Il obtient en 2014 le Diplôme d'Etude Supérieure Inter-Universitaire en chirurgie des cardiopathies congénitales de l'université Paris-Descartes.  Jonathan poursuit sa formation au Royaume-Uni où il intègre l'équipe de cardiologie de l'université d'Edimbourg (Royal (Dick) School of Veterinary Studies) pour une durée de 4 ans combinant une spécialisation européenne (ECVIM) en Cardiologie et un Master de Sciences-Recherche (MScR). 
Au travers de ce parcours et de ses collaborations, Jonathan s'est formé en chirurgie cardiaque interventionnelle ainsi qu'aux techniques d'imagerie cardiaque avancées (imagerie 3D, échocardiographie transoesophagienne, scanner et IRM cardiaques). Jonathan a présenté ses travaux de recherches lors de congrès nationaux et internationaux.
Il a notamment été récompensé par le prix de la meilleure présentation orale par la société européenne vétérinaire de cardiologie (ESVC) pour son travail de recherche comparant l'échocardiographie 3D et le scanner cardiaque synchronisé à l'électrocardiogramme pour évaluer la taille de l'atrium gauche.
Jonathan est soucieux de partager ses connaissances et d'échanger sur son domaine d'expertise aussi bien avec ses collègues et confrères qu'avec les maîtres des chiens qu'il soigne. Tout au long de son cursus, Jonathan a participé activement à l'enseignement lors des rotations cliniques des étudiants mais aussi lors de formations continues visant à enseigner la cardiologie à ses confrères. Il est par ailleurs reconnu Associate Fellow (AFHEA) par l'académie de l'enseignement supérieur du Royaume-Uni. Le travail en équipe et l'approche pluridisciplinaire à HOPia est une valeur essentielle au cœur de sa pratique quotidienne afin de garantir une prise en charge optimale des animaux atteints de maladies cardiaques.
Publications & Présentations
https://orcid.org/0000-0002-1540-3860
https://www.researchgate.net/profile/Jonathan-Bouvard-2
✓Domingues M, Archontakis PE, BouvardJ, Winter L, Gunn-Moore DA. Comparisonbetween the Parks Medical Doppler and the Mano Medical Vet BP Doppler forrecording indirect systemic blood pressure in conscious dogs. (submitted in Vet record)
✓Bouvard J, Longo M, Schwarz T, Martinez Pereira Y. Accessory left ventricular chamber in a cat: multimodality imaging description by cardiac magnetic resonance imagingand echocardiography.Publishedinthe Journal of Veterinary Cardiology
✓Longo M, Bommer N, Parys M, Thierry F, Bouvard J, Perez Accino Salgado J, Schwarz T. Dynamic 4D-CTEU is a reliable technique to investigate ureteral ectopia in dogs. ACVR, Baltimore, USA, 2019. PublishedinVRU.
✓Cortes-Sanchez PM, Bouvard J,Sudunagunta S, Bode EF, Culshaw GJ, Dukes-McEwan J. Echocardiographic changes and their influence on staging in dogs with stage B2 MMVD treated with pimobendan monotherapy. Under review inJSAP
✓CulshawG, BommerNX, JamiesonP, DicksonS, BlakeR, Bouvard J, SantarelliG, Martinez-PereiraY.Changes in renal endothelin activity with cardiac and renal diseases in dogs. 29thECVIM congress, Milano, Italy, 2019.
✓Lewis M,Bouvard J, Eatwell K, CulshawG.Standardization of electrocardiographic examination in corn snakes (Pantherophis guttatus). International Conference onAvian,Herpetological and Exotic Mammal medicine (iCARE), London, UK, 2019. Published intheVeterinary record.
✓Bouvard J. Systemic hypertension in dogs and cats. AFVAC French national congress, Marseilles, France, 2018. (lecture)
✓Bouvard J, Thierry F, Culshaw G, Schwarz T, Longo M, Martinez-Pereira Y. Comparison of ECG-gated Multidetector Computed Tomography and Two-Dimensional Echocardiographic methods in the Assessment of Left Atrial Size using Left atrial-to-Aortic Root Short-Axis Ratioin Dogs. 28thECVIM congress, Rotterdam, Netherland, 2018.
✓Bouvard J, Thierry F, Culshaw G, Schwarz T, Handel I, Martinez-Pereira Y.Assessment of Left Atrial Volume in Dogs: comparisons of Two-Dimensional and Real-Time Three-Dimensional Echocardiographywith ECG-gated Multidetector Computed Tomography Angiography. 28thECVIM congress, Rotterdam, Netherland, 2018. Awarded best oral presentationbytheESVCand published intheJournal of Veterinary Cardiolgy.
✓Santarelli G, Baron Toaldo M, Bouvard J, GlausT, Fernandez del Palacio J. Intervendor variability of speckle tracking echocardiography strain parameters in dogs. Published in the American Journal of Veterinary Research.✓Bouvard J. Normal coronary anatomy and anatomic variations. Tartan Ventricle congress, Penrith, United Kingdom, 2018.
✓Bouvard J.Echocardiographic measurement of the left atrium: do method and size matter? Resident seminar, Roslin, 2018.
✓Bouvard J, Culshaw G, Martinez-Pereira Y. A rare supraventricular arrhytmia: atrial parasystole leading to atrial tachycardia. Cardiofolies, La Rochelle, France, 2017.
✓Bouvard J. New imaging techniques: 3D echocardiography and multidimensional imaging elevating the power of ultrasound.Tartan Ventricle Congress,Penrith, United Kingdom, 2017.
✓BouvardJ. ECVIM updates 2016. Veterinary Cardiology Society congress, Loughborough, United Kingdom,2016.✓Bouvard J, Misbach C, Gouni V, Damoiseaux C, Petit A, Arqued-Soubeyran V, Trehiou-Sechi E, Pouchelon JL, Chaix G, Bernachon N, Chetboul V. The use of Nutri-Plus Gel in Cardiology. Published in the Scholars Journal of Medical Case Reports
✓Bouvard J, Chetboul V, Pouchelon JL, Trehiou-Sechi E, Pey P,Hahn H, Gouni V.Aortic dissection in a dog: computed tomodensitometry and echocardiographic description.AFVAC 2015 congress, Lyon, France, 2015
✓Bouvard J, Gouni V, Trehiou-Sechi E, Damoiseaux C, Behr L, Borenstein N, Chetboul V. Multiple congenital heart diseases correctedby double-endovascular surgery.Francophone interuniversity case report competition http://www.vetofocus.com(French further education website).Awarded first prize.
✓Chai N, Pouchelon JL, Bouvard J, Camacho SilleroL, Huynh M, Segalini V, Point L, Croce V, Rigaux G, Highhood J, Chetboul V.Proposed simple method for electrocardiogram recording in free ranging Asian elephants (Elephas Maximus).Published in the Journal of Zoo and WildlifeMedicine.
✓Decambron A, Manassero M, Reyes-Gomes E, Fayolle P, Fournet A, Bouvard J, Pey P, Perrot S, Medaille C, De Fornel P, Thibaud JL, Viateau V.Bone hemophilic pseudotumor in a German Shepherd dog: first description of a rare and challenging complication of hemophilia A.24thAnnual Scientific Meeting ECVS, Berlin, Germany, 2015.
✓Leclerc A, Trehiou-Sechi E, Greunz EM, Damoiseaux C, Bouvard J, Chetboul V. Severe aortic regurgitation and systemic hypertension in north-chines leopard (Panthera pardus japonensis). Published in the Jounal of VeterinaryCardiology.
✓Bouvard J, Trehiou-Sechi E, Behr L, Pouchelon JL, Damoiseaux C, Gouni V, Misbach C, Petit A, Leverrier A, Borenstein N, Chetboul V. First description of a pulmonary artery dissection in a dog withpatent ductus arteriosus -surgical correction with an Amplatz® Canine Duct Occluder. Poster presented at Best of Vétérinaire congress, Paris, France, 2013.
Cours délivrés en tant que formateur AFHEA (Associate Fellowof the Higher EducationAcademy)
✓Theoreticaland practical CPD dayfor IMV imaging:Principles of echocardiographic image acquisitionand Doppler Analysis
✓Theoreticaland practical CPDday for Boerhinger Ingheleim: How to become EPIC at measuring left atrium-to-aortaratio
✓Awarded Associate Fellowof the Higher EducationAcademy (AFHEA)
Affiliations et appartenances
➢Member of AFVAC (French Veterinary Association) since 2009
➢Member of Veterinary Cardiovascular Societyand BVA
➢Member of European Society of Veterinary Cardiology
➢Member of VetMeet
Retrouvez toutes nos actualités et publications